United States Marine Highways
To: Route Designation | Grants
America has a versatile and expansive network of navigable waterways including: rivers, bays, channels, coasts, the Great Lakes, open-ocean routes and the Saint Lawrence Seaway System. We like to think of this as "America's marine highway," a network of maritime expressways having as many benefits (in some cases more) as America's road network.
However, America's waterways are underused. The benefits of using our marine waterways -- such as reducing landside congestion and reducing system wear and tear -- are not perceived on an individual level. Using our waterways more consistently would create more public benefits and incentivize shippers to use these critical transportation channels.
The United States Marine Highway Program    
MARAD's Marine Highway Program has one major goal: expand the use of America's navigable waters. We work closely with public and private organizations to:
develop and expand marine highway service options and facilitate their further integration into the current U.S. surface transportation system, especially where water-based transport is the most efficient, effective and sustainable option
highlight the benefits, increase public awareness and promote waterways as a viable (in some cases a superior) alternative to "landside" shipping and transportation options 
We do not directly operate marine highway services. Rather, we promote their use, efficiency and public benefits.
Port Planning and Investment Toolkit – Marine Highway
So what are the benefits?
Public benefits include:
create and sustain jobs in U.S. vessels, ports and shipyards
relieve landside congestion
reduce maintenance costs and improve the U.S. transportation system's overall state-of-repair (wear and tear on roads and bridges)
drive the mandatory use of emerging engine technologies
improve U.S. economic competitiveness by adding new cost-effective freight and passenger transportation capacities
improve environmental sustainability of the U.S. transportation system by using less energy and reducing air emissions (such as greenhouse gases) per passenger or ton-mile of freight moved
improve public safety and security by providing alternatives for the movement of hazardous materials outside heavily populated areas
improve transportation system resiliency and redundancy by providing transportation alternatives during times of disaster or national emergency
improve national security by adding to the nation's strategic sealift resources.
For a full list and explanation of the public benefits, see pages 11-37 of the America's Marine Highway Report to Congress (April 2011).
Current Marine Highway Routes
The Marine Highway system currently includes 29 "Marine Highway Routes" that serve as extensions of the surface transportation system. Each all-water route is designated by the Secretary and offers relief to landside corridors suffering from traffic congestion, excessive air emissions or other environmental challenges. View Route Descriptions.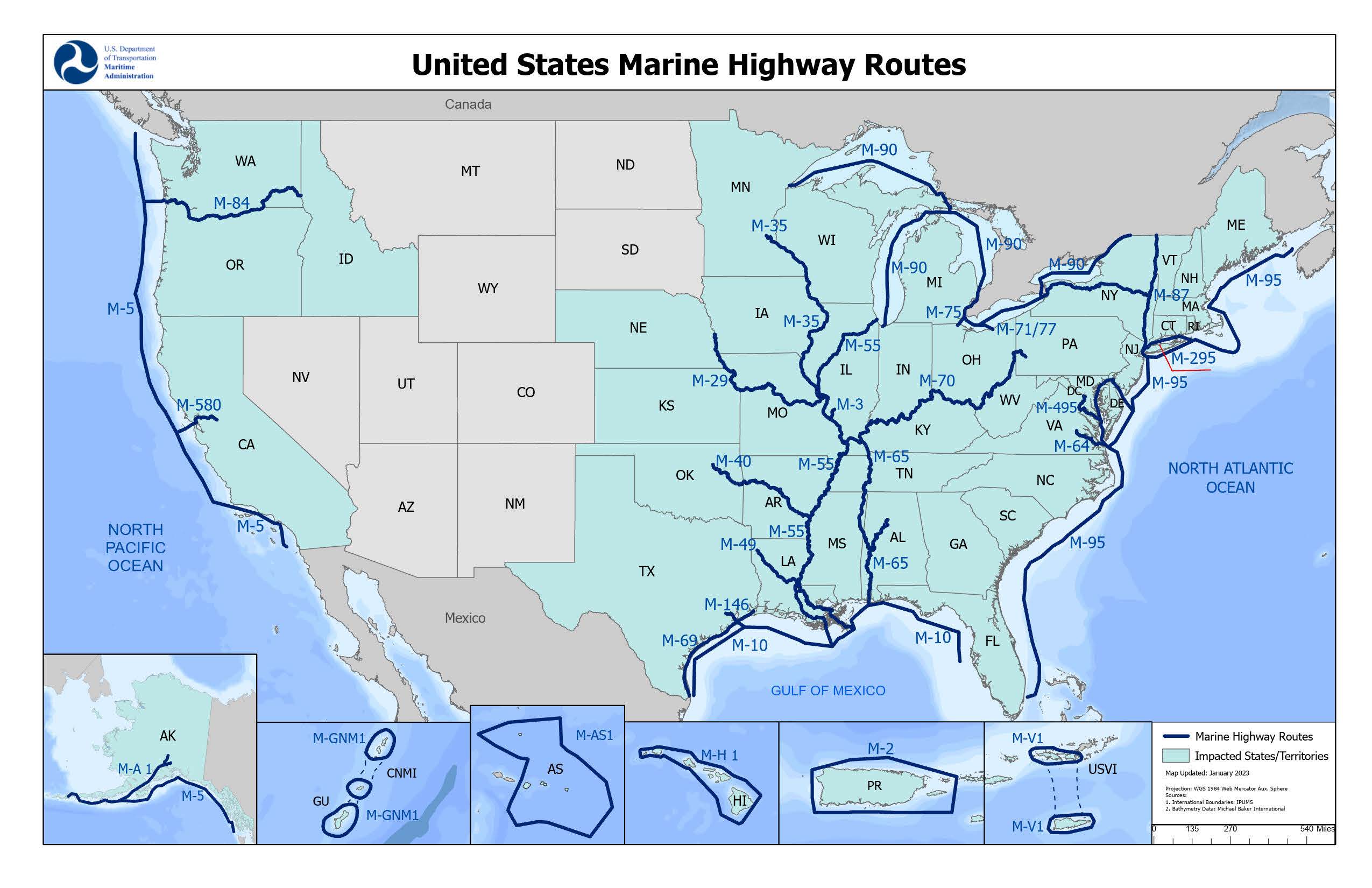 Funding United States Marine Highway Program
The Marine Highway program was established by Section 1121 of the Energy Independence and Security Act of 2007 to reduce landside congestion through the designation of Marine Highway Routes. Section 405 of the Coast Guard and Maritime Transportation Act of 2012 further expanded the scope of the program to increase the utilization and efficiency of domestic freight or passenger transportation on Marine Highway Routes between U.S. ports. The National Defense Authorization Act for Fiscal Year 2022 then expanded the definition of short sea shipping to include freight vehicles carried aboard commuter ferry boats and cargo shipped in discrete units -- or packages that are handled individually, palletized or unitized specifically for transport.
Last updated: Friday, January 20, 2023