Waterways Planning
America's Marine Highway Program
What We Do
The America's Marine Highway System consists of our Nation's navigable waterways including rivers, bays, channels, the Great Lakes, the Saint Lawrence Seaway System, coastal, and open-ocean routes. The Marine Highway Program works to further incorporate these waterways into the greater U.S. transportation system, especially where marine transportation services are the most efficient, effective, and sustainable transportation option.
Mission
To lead the development and expansion of Marine Highway services and to facilitate their integration into the U.S. surface transportation system.
Vision
The full integration of reliable, regularly scheduled, competitive, and sustainable Marine Highway services into the surface transportation system that are a routine choice for shippers.
Governing Legislation
The America's Marine Highway Program was established by Section 1121 of the Energy Independence and Security Act of 2007 to reduce landside congestion through the designation of Marine Highway Routes. Section 405 of the Coast Guard and Maritime Transportation Act of 2012 further expanded the scope of the program beyond reducing landside congestion to efforts that generate public benefits by increasing the utilization or efficiency of domestic freight or passenger transportation on Marine Highway Routes between U.S. ports. The National Defense Authorization Act for Fiscal Year 2016 added to the definition of short sea shipping to include cargo shipped in discrete units or packages that are handled individually, palletized or unitized for purposes of transportation; or freight vehicles carried aboard commuter ferry boats.
Program Description
The America's Marine Highway Program is a Department of Transportation-led program to expand the use of our Nation's navigable waterways to relieve landside congestion, reduce air emissions, provide new transportation options, and generate other public benefits by increasing the efficiency of the surface transportation system. The program works with public and private stakeholders to achieve these goals.
The Marine Highway Program does not directly operate Marine Highway services.
Overall Benefits
The efficiency, flexibility, and system resiliency provided by our navigable waterways can benefit the United States public as a whole, however they are currently underutilized within the U.S. surface transportation system. One reason for that underutilization is that many of the benefits generated by Marine Highway services cannot be captured by individuals, such as reducing landside congestion or reduced system wear and tear. By acting to increase the use of the United States' underutilized marine transportation assets, the America's Marine Highways Program helps to generate these "public benefits" that are not normally considered by shippers. These public benefits include:
Creating and sustaining jobs in U.S. vessels and in U.S. ports and shipyards;
Increasing the state of good repair of the U.S. transportation system by reducing maintenance costs from wear and tear on roads and bridges;
Increasing our nation's economic competitiveness by adding new, cost-effective freight and passenger transportation capacity;
Increasing the environmental sustainability of the U.S. transportation system by using less energy and reducing air emissions (such as greenhouse gases) per passenger or ton-mile of freight moved. Further environmental sustainability benefits come from the mandatory use of modern engine technology on designated projects;
Increasing public safety and security by providing alternatives for the movement of hazardous materials outside heavily populated areas;
Increasing transportation system resiliency and redundancy by providing transportation alternatives during times of disaster or national emergency;
Increasing national security by adding to the nation's strategic sealift resources.
For a full list and explanation of the public benefits generated by increasing the use of the Marine Highway system, see pages 11-37 of the America's Marine Highway Report to Congress (April 2011).
Marine Highway Routes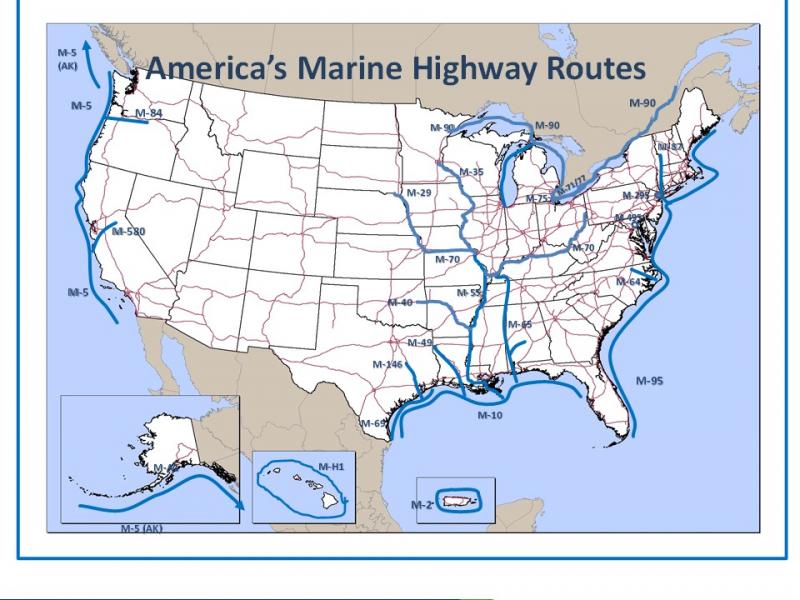 The Marine Highway system currently includes 25 all-water Marine Highway Routes that serve as extensions of the surface transportation system. These Routes are designated by the Secretary because they can offer relief to landside corridors that suffer from traffic congestion, excessive air emissions or other environmental concerns and challenges or provide new transportation options. Marine Highway Routes can be made to the Department of Transportation at any time and they are designated by the Secretary after a review. Route recommendation information can be in found the Final Rule in the Federal Register. Designation of these Marine Highway Routes is the first step towards reducing landside congestion by focusing public and private efforts on increasing the amount of cargoes and passengers transported on commercially navigable waterways. Please click on this link to view information on the individual Marine Highway Route: Marine Highway Route Descriptions
Marine Highway Projects
The Marine Highway Open Season "Call for Projects" was published in March 2019 and is currently open. The Office of Marine Highways will review applications on a rolling basis every 6 months until May 31, 2022.
The projects represent concepts for new services or expansion of existing Marine Highway services that have the potential to offer public benefits and long-term sustainability without long-term Federal support. These projects receive preferential treatment for any future federal assistance from the Department of Transportation and MARAD. The projects will help start new businesses or expand existing ones to move more freight or passengers along America's coastlines and waterways.
Click Here for Marine Highway Project Description Pages
AMH Factors of Success Project Designation Webinar Presentation (2018)
Marine Highway Grants
The first round of Marine Highway Grants totaling $7M were awarded in September 2010. In 2016 and 2017, the Program received an additional $5M per year. The Consolidated Budget Act of 2018 provided a further $7M. As the Program grows, additional notices of funding opportunities will be published in the Federal Register as funds become available. Click Here for Notice of Funding Opportunity for America's Marine Highway Projects
The Office of Ports & Waterways Planning encourages sponsors and partners that have previously had their marine highway project designated to respond to AMHP solicitations. When applying, all project applicants should include the information requested in the Notice of Funding Opportunity. Applications are generally submitted electronically via regulations.gov (http://www.regulations.gov).
Clink here for the America's Marine Highway Program NOFO WebinarResources
America's Marine Highways are supported in several ways, including through reports and publications from government and academia. Refer to the Program's Reference Library for more information.
List of non funding related assistance offered by the Office of Marine Highways and Passenger Services.
Updated:
Monday, March 11, 2019