The RRF Response to Hurricane Katrina
In late August 2005, Hurricane Katrina battered the U.S. Gulf coast, resulting in one of the deadliest natural disasters in the nation's history. The hurricane formed in the Bahamas on August 23 and made landfall in Florida before entering the Gulf of Mexico, where it eventually strengthened into a Category 5 hurricane.  It weakened to a Category 3 storm before coming ashore near the Louisiana-Mississippi border on the morning of August 30.  The powerful storm caused massive damage throughout the U.S. Gulf coast, especially in New Orleans, Louisiana, where subsequent levee failures caused catastrophic flooding, which later led to widespread death and destruction.  As the disaster unfolded, and during subsequent rescue and rebuilding efforts, the Maritime Administration (MARAD) provided critically-needed resources and services that saved lives and helped the city rebuild.
The primary component of MARAD's response was activating ships from its Ready Reserve Force (RRF). In addition to delivering critical supplies to New Orleans, the vessels also provided office space, berthing and meals for relief workers, port and government personnel, and for civilians.  The Department of Defense's (DOD) release of the RRF vessels to respond to a domestic crisis was an unprecedented event in MARAD's history.  MARAD's role during the hurricane and in the days, weeks, and months following the disaster demonstrated the agency's ingenuity and ability to quickly meet the nation's needs.
When Hurricane Katrina made landfall on the U.S. Gulf Coast, two RRF ships based in New Orleans had to withstand the storm's  impact. MV Cape Kennedy and MV Cape Knox, both Roll-On/Roll-Off (Ro/Ro) type cargo ships, prepared to ride out the  storm while maintaining a Reduced Operating Status (ROS).[1]  Both ships activated their hurricane plans, which called for securing additional mooring lines, walking out their anchors, ballasting down the ships, ordering tugs alongside, and providing their own power.  With the exception of some parted mooring lines that resulted in the ships moving 200 feet, both vessels survived the storm without damage.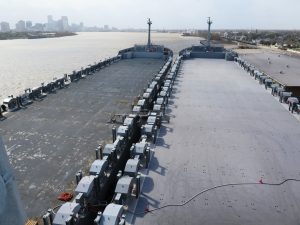 SS Cape Knox and SS Cape Kennedy docked in New Orleans, Louisiana. 2016.  Photograph by Barbara Voulgaris.
Having two MARAD vessels in New Orleans proved extremely beneficial as Cape Kennedy and Cape Knox provided critical assistance in the immediate aftermath of the hurricane.  In the succeeding days and weeks when much of the city remained without power and fresh water, both ships provided shelter and offered berthing, meals and showers for emergency response personnel. Cape Kennedy operated as the command post for the Port of New Orleans.  Both ships provided fuel, water, and air to Naval Support Activity New Orleans, and crews cleared debris from the Poland Street Wharf to make landing space for helicopters, critical for a city that was largely inaccessible by vehicle.  While conditions rendered much of the city uninhabitable for citizens and emergency workers alike, Cape Kennedy and Cape Knox immediately demonstrated the potential role for MARAD vessels in providing stable housing and assisting emergency responders.
As the enormity of the devastation became apparent, the Federal Emergency Management Agency (FEMA) coordinated a large scale rescue and recovery operation in cooperation with federal, state, and local government agencies. On September 3, Secretary of Transportation Norman Y. Mineta made the unprecedented request to DOD for the release of RRF vessels to support civilians in a domestic, non-military mission.  Secretary Mineta cited the "need to act now to mobilize resources like these ships that can support what is going to be a long term commitment to rebuilding the region."  Upon DOD's approval and after receiving a White House directive via the Secretary of Transportation, MARAD activated RRF ships SS Diamond State and SS Wright, and the school ships[2] TS Empire State, TS Sirius, TS State of Maine for Hurricane Katrina relief operations.  In addition to their assigned mission, each vessel carried supplies to the region including two small watercraft, portable generators, bottled water, self-pumping tanks of diesel fuel or gasoline, refrigerated containers, and a portable reverse osmosis fresh water distillation plant.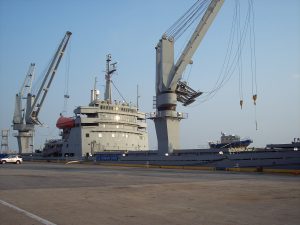 SS Diamond State docked at Port of New Orleans, October 2005. Diamond State was critical in the Port of New Orleans reopening two weeks after Hurricane Katrina.  Photograph by Kevin Tokarski.
Diamond State, an auxiliary crane ship tasked with assisting with the port repair operations in New Orleans, was the first activated vessel to arrive, docking on September 8. Diamond State's capabilities enabled it to act as a mobile port, and it promptly supplied electrical power to the Port of New Orleans' shore offices and billeting and food for port employees. Cape Kennedy, Cape Knox, and Diamond State were integral in enabling the Port of New Orleans to reopen in a reduced capacity only two weeks after the storm hit.
Wright, an aviation maintenance ship based in Baltimore at the time, arrived in New Orleans on September 14.[3] Wright was particularly suited to this mission because it accommodated a large number of personnel, supported helicopter operations, possessed large water capacity, and had extensive command and control systems.  From its place on the Nashville Avenue Wharf, Wright provided berthing space and meals to port workers. Diamond State remained in New Orleans until departing in mid-November while Wright's large berthing capacity kept the ship in New Orleans until January 2006.
Among the ships activated on September 3 were three training ships from state maritime schools: Empire State, Sirius, and State of Maine.  Because they were designed to accommodate midshipmen for training, the ships were especially suited to providing meals and berthing space to large numbers of relief workers.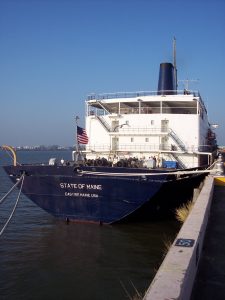 TS State of Maine docked in New Orleans, Louisiana, October 2005. State of Maine conducted extensive hotel operations after Hurricane Katrina.  Photograph by Kevin Tokarski.
State of Maine, from the Maine Maritime Academy, arrived in New Orleans on September 17 and remained on site until November 16.  During that time State of Maine operated an extensive and challenging hotel operation, serving 33,663 meals and housing a total of 7,430 people, leading the captain to suggest the ship's slogan should be: "The State of Maine…7th Street Wharf….We'll Leave the Light On!"
Texas A&M Maritime Academy's training ship, Sirius, arrived in New Orleans on September 12.  From the Nashville Avenue Wharf Sirius provided meals and housing for port employees and emergency responders, and also converted the hangar deck into a rest and recuperation area for military personnel.  Most workers housed aboard Sirius had their own room and access to four different entertainment lounges with big-screen televisions, movies, and games. Sirius' captain, Sam Stephenson, described the mission as "providing food and lodging for these people who lost their homes and everything else except maybe the clothes they're wearing."

TS Sirius docked in New Orleans, Louisiana, October 2005. Sirius provided berthing quarters and recreation areas for relief workers and port employees.  Photographer unknown.
Empire State, from State University of New York Maritime College, moored downriver from New Orleans at Alliance, Louisiana on September 16. Empire State provided meals and berthing to U.S. Coast Guard and refinery personnel working to repair the Conoco-Phillips Refinery, the third largest refinery in the state.  On November 16, Empire State relocated to the 7th Street Wharf, New Orleans where it continued its mission providing food and lodging to port workers and emergency responders.  During the course of its mission Empire Stateaveraged 256 people per night.  Both Sirius and Empire Stateremained on station until the end of MARAD's role in relief operations on March 1, 2006.
The storm's scope, not just in New Orleans but in other regions in Louisiana, required MARAD to shift vessels and to activate additional ships. On September 17, the RRF crane ship SS Equality State received an activation order to sail to Port Sulphur, Louisiana to provide berthing  for oil spill recovery workers. Equality State was originally scheduled to support operations in Gulfport, Mississippi, but poor port conditions forced the vessel to report to Louisiana instead.  Although it had already rendered remarkable assistance in the immediate aftermath of the storm, Cape Knox did not actually receive an activation order until September 13.  It sailed to Meraux, Louisiana to provide berthing for workers who were responding to an oil refinery spill before moving alongside Equality State at Port Sulphur on September 29.
The last vessel to receive an activation order for Hurricane Katrina operations, at the request of the U.S. Coast Guard, was the Beaumont, Texas based MV Cape Vincent, on September 20.  However, the ship was delayed in reaching Louisiana because of Hurricane Rita.  After finally arriving in Louisiana, Cape Vincent, a Ro/Ro ship, used a unique method of providing berthing while moored at Chalmette, Louisiana just east of New Orleans; crewmembers utilized the ship's large deck space to load FEMA trailers for better berthing accommodations complete with sewage, water, and electrical connections. Cape Vincent also remained in greater New Orleans until the end of operations in March 2006.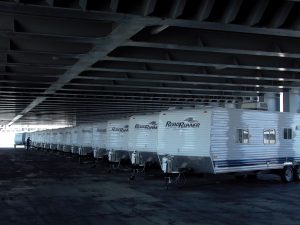 FEMA trailers aboard SS Cape Vincent. The accommodation of trailers provided comfortable conditions and privacy to workers staying aboard Cape Vincent.  Photograph by Paul Gilmour.
MARAD's role during Hurricane Katrina and the difficulties the agency faced is not complete without also mentioning the agency's assistance during Hurricane Rita, a Category 3 storm that came ashore in southwest Louisiana on September 24, less than a month after Hurricane Katrina. Fortunately the brunt of Hurricane Rita, which at peak strength was even stronger than Katrina, missed New Orleans but caused major flooding in Lake Charles, Louisiana and damage in southeastern Texas.  The storm altered recovery operations already underway for Katrina and created the need for MARAD's assistance in areas damaged by Rita. Cape Vincent's departure for Katrina operations was delayed by the storm and instead the vessel activated hurricane plans, as did the other MARAD vessels at Beaumont and Houston. Cape Vincent and Cape Victory stored more than 350 City of Beaumont emergency vehicles, including one helicopter, aboard ship to protect them from damage and to allow more rapid deployment once the storm had passed.

TS Texas Clipper II in Lake Charles, Louisiana, October 2005. Texas Clipper II provided berthing to recovery workers and displaced citizens after Hurricane Rita.  Photograph by Kevin Tokarski.
Like the ships in New Orleans, Cape Vincent and Cape Victory provided meals, showers, and berthing to emergency personnel in the immediate aftermath of the storm.  At FEMA's request MARAD had the TS Texas Clipper II, Texas A&M Maritime Academy's former school ship, towed to Lake Charles in the wake of Hurricane Rita to provide berthing services to emergency personnel, port workers, and displaced citizens and students. Texas Clipper II remained at Lake Charles until the end of November when Sirius arrived from New Orleans and took over berthing operations.
MARAD relief operations for both hurricanes ended on March 1, 2006. On that date Sirius, in Lake Charles, and Empire State and Cape Vincent in New Orleans proper, were the last MARAD vessels assisting in recovery operations.  During six months of operations MARAD vessels provided a total of 269,570 meals and 83,210 total berths to emergency responders, government officials, port workers, law enforcement officers, military personnel, and displaced civilians.  MARAD vessels were on site as the disasters occurred, provided both immediate and sustained assistance, and offered stability in places where little could be found.  While these operations were unprecedented in MARAD's history, they would prove valuable as lessons learned for future humanitarian aid operations.
———————————————————————————————————————
[1] RRF vessels in Reduced Operating Status are crewed by approximately 10 mariners that maintain shipboard equipment and systems in preparation for future operational requirements. Upon activation the vessel takes on its complete crew and can be ready for sea in a predetermined number of days depending on the type of vessel (5 or 10 days).
[2] The U.S. Merchant Marine Academy at Kings Point and the six state maritime academies educate and graduate licensed merchant marine officers to serve U.S. marine transportation and defense needs.  MARAD provides training vessels, "school ships," to each of the academies for at-sea training.
[3] SS Wright's current homeport is Philadelphia, Pennsylvania.
Last updated: Monday, February 8, 2021