U.S. Maritime Commission type P2-SE2-R3
The most efficient means to transport large groups of people, even into the 1970s, was the troop transport ships, which were a key part of the U.S. Maritime Commission's shipbuilding program.  The commission built transport-oriented subtypes of the C3, Victory, Liberty ship designs, and also built a number of passenger-specific vessels for the U.S. Navy.  These ships, fast and with a high freeboard similar to a traditional passenger liner, were designed to move thousands of troops between different ports; after World War II, many were transferred to the U.S. Army and later to the Military Sea Transportation Service, the predecessor to today's Military Sealift Command.

Use "play" button to rotate. Use "expand" button for full screen. Hold "Ctrl" and scroll mouse wheel to zoom in.
This model is SS President Wilson, completed in 1948 as a commercial passenger vessel. Designed and started as an Admiral Benson-class troop transport, the vessel was originally intended to serve as USS Admiral F. B. Upham.  The vessel would have been the tenth and final of its class, but was cancelled as a navy ship in 1944 as the war was winding down. President Wilson was fitted for commercial service and carried much more deadweight, but was otherwise very similar in design to a troop transport; 610 feet long and its twin-screw turbo-electric engine was capable of speeds of 19 knots. Admiral Benson-class vessels were capable of carrying over 4,700 troops. In commercial service, President Wilson carried far fewer passengers. President Wilson sailed for American President Lines from 1948 through 1973.  In 1964, its crew participated in the rescue of sailors from a sinking Greek cargo ship. For their actions, President Wilson was awarded the Gallant Ship Award.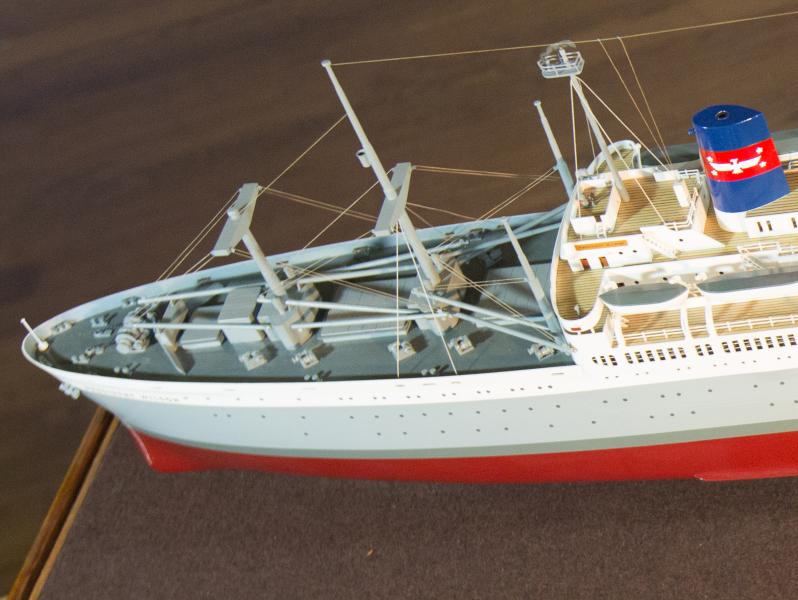 (Maritime Administration Heritage Asset, Object 2003.015.0006)