MARAD Responds to Hurricanes Harvey, Irma, and Maria
Twelve years prior to Hurricanes Harvey, Irma, and Maria in 2017, Maritime Administration (MARAD), Ready Reserve Force (RRF) vessels provided floating berths, meals, and command and control centers for personnel from the Federal Emergency Management Agency (FEMA), and other federal, state, and local agencies after Hurricane Katrina devastated New Orleans and much of the Gulf Coast. The resulting lessons from Katrina guided the creation of a rapid disaster response system using RRF vessels and training ships to aid affected areas.  These innovative applications were put to the test when three massive storms battered the U.S. Gulf Coast and Caribbean in 2017. Hurricanes Harvey, Irma, and Maria, struck with brutal succession. Each brought significant coastal surge, winds, and flooding that stretched resources, and forced the U.S. disaster relief agencies to deploy in remote locations under the most trying of circumstances.
Harvey was the first of three to cause widespread destruction. It made landfall on the Texas coast at Corpus Christi on August 25, as a Category 4 storm with sustained winds of 130 MPH. Harvey cycled over the city of Houston for a week and dumped precipitation equivalent to what the city experiences in a year. Two water control reservoirs breached and inundated Houston with unprecedented flooding that displaced 30,000 people.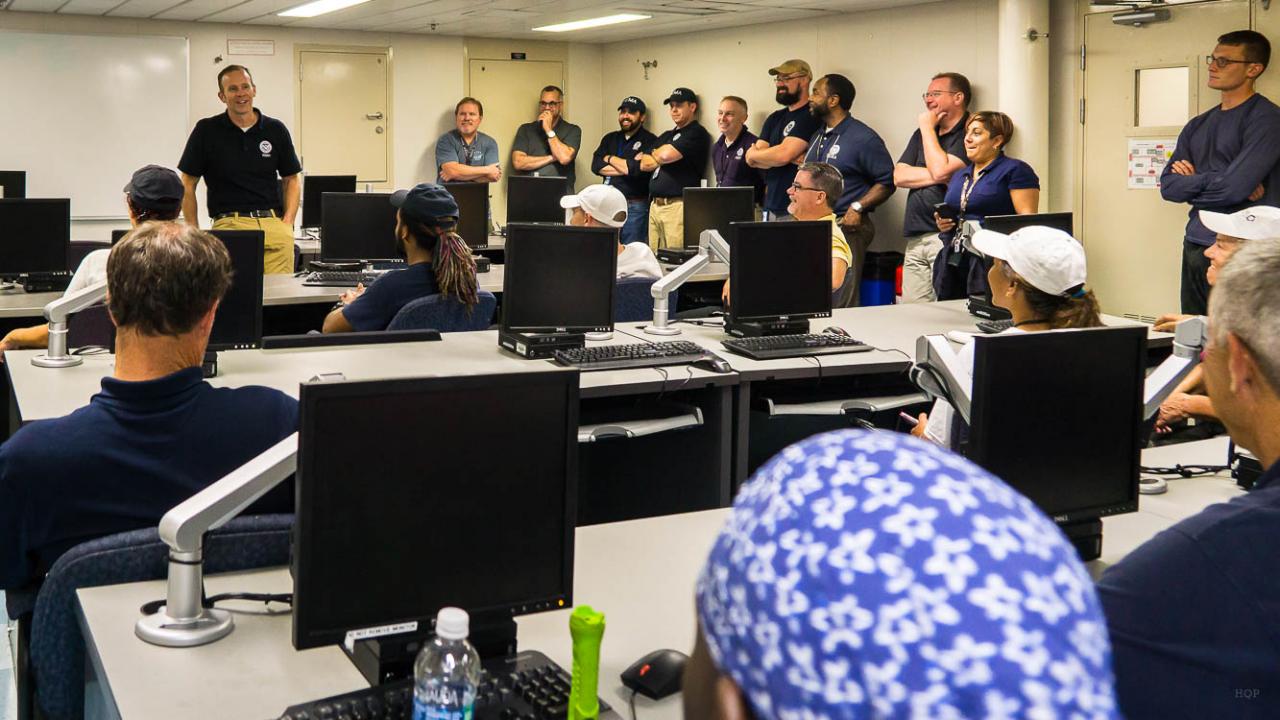 On September 1, MARAD's Command Center (MCC) issued an activation order for the Training Ship Kennedy, from the Massachusetts Maritime Academy, to support Harvey relief. Training ships from state maritime academies are uniquely equipped with galleys and hundreds of bunks, making them well suited to shelter responders in austere conditions. FEMA requested that T/S Kennedy sail to Texas to house and feed persons on the ground. The vessel was fully crewed in five days and arrived in Ingleside, Texas, on September 16, where it provided berths and meals for first responders.  MARAD also activated the Texas Maritime Academy training ship General Rudder, which remained in its homeport of Galveston, to support disaster relief workers. 
Kennedy was underway when FEMA realized it might need further MARAD assistance. The track of Hurricane Irma indicated a direct hit on the U.S. Virgin Islands. Irma recorded the strongest sustained winds of any hurricane in the Atlantic Ocean ever recorded, 175 MPH.  FEMA projected that the Category 4/5 hurricane would strike the remote Virgin Islands with catastrophic storm surge and winds. FEMA requested that MARAD's Aviation Support Logistics Vessel Wright (T-AVB-3) activate on September 6. Wright is equipped to support an Intermediate Maintenance Activity (IMA), and capable of housing hundreds of U.S. Marines and material to support deployment of fixed and rotary aircraft. It also features RO/RO cargo functionality and is well suited to support sea and air disaster relief. FEMA installed an FAA mobile air traffic control center on Wright to coordinate air traffic in and out of the island. They also loaded significant stores of ready-to-eat meals (MREs), bottled water, and tactical/response vehicles.  
Irma struck both the Virgin Islands and Puerto Rico on September 7, crippling infrastructure and leaving the population stranded and short of food and potable water.  Fearing Irma might next strike the Gulf or Atlantic coast, MARAD's Atlantic Field Crisis Team (AFCT) activated and began constant monitoring. Division of Atlantic Operations (DAO) personnel, Jennifer Ferreira and Paige Brage provided twice daily reporting of all DAO assigned vessels, facilities, and personnel to the MCC. At the request of U.S. Transportation Command (USTRANSCOM), the U.S. Navy's Military Sealift Command (MSC), began underway preparations to seek safety at sea from the oncoming storm for the Charleston, South Carolina based RO/ROs Cape Douglas, Cape Diamond, Cape Domingo, and Cape Edmont. MARAD designated RO/RO Cape Decision a SAFESTOR vessel, where federal, state and local law enforcement and public safety personnel stored 150 public safety vehicles and water craft to protect them from damage. 
Irma eventually made landfall in the Florida Keys on September 10, where it caused considerable damage.  The training ship Empire State, from the State University of New York (SUNY) Maritime College, was preparing to support Harvey relief in Texas, however, FEMA requested its use for the Florida Keys. Empire State sailed on September 12, and docked at the Key West Navy pier on the 17th where it provided berths and meals. 
On September 20, Hurricane Maria, another Category 5 storm, struck the Virgin Islands and Puerto Rico. Maria caused massive destruction and loss of life in Puerto Rico. It also cut off electricity and essential needs to three million people.  Wright evaded both Irma and Maria, and delivered bottled water to San Juan, before finally docking in the Crown Bay Pier in St. Thomas, U.S. Virgin Islands, on September 24. The onboard FAA mobile air traffic control tower was key to reopening the commercial airport on the island and allowed incoming and outgoing relief flights. FEMA released Wright on October 18, and it departed St. Thomas on October 21. During Wright's FEMA support mission in St. Thomas, the vessel provided berths for 3,958 responders and 9,923 meals.  
FEMA released Kennedy from Houston to assist with the dire situation in Puerto Rico. After a brief stop to refuel in Miami, it proceeded to San Juan and arrived on September 27. Between Harvey in Texas, and Maria in San Juan, Kennedy supplied 9,832 berths and 21,809 meals. Empire State left Key West on September 28, to join Kennedy in San Juan. It arrived on October 1, and remained through October 19. During its combined support of Hurricane Irma in Key West, and Hurricane Maria in San Juan, it provided berths for 5,697 first responders and 11,121 meals. Empire State returned to SUNY Maritime College on October 24. 
 
Last updated: Thursday, October 7, 2021