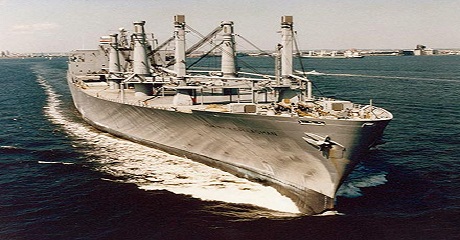 The GTS[1] Admiral W. M. Callaghan is an early roll-on/roll-off (or Ro/Ro)[2] vessel and the first all-gas-turbine vessel constructed for the U.S. Navy. Built at Sun Shipbuilding and Dry Dock in Chester Pennsylvania, ADM Callaghan was launched on October 17, 1967 and went into service on December 19, 1967 under charter to the Military Sea Transportation Service (MSTS), the predecessor to the U.S. Navy's Military Sealift Command (MSC). The ship was named for Admiral William M. Callaghan who was the commissioning captain on USS Missouri (BB-63). Later, he became the first commander of the MSTS from 1949-1952.
Although primarily employed as a Ro/Ro, ADM Callaghan is also fitted with conventional cargo gear for lift-on/lift-off operations. The ship is fitted with two 120-ton capacity booms and 12 five-to-ten ton capacity booms serving the cargo holds. The ship has 167,537 square feet of vehicle storage space arranged on several decks, with internal ramps and watertight doors providing access to the lower decks and between the cargo holds. Vehicles are loaded and unloaded through four side ports and the stern ramp, with a throughput of approximately 750 vehicles per day. Callaghan was originally fitted with two Pratt and Whitney FT-4 engines of 25,000 SHP each, providing a service speed of over 20 knots. The FT-4 engines experienced many technical problems, and by 1969 they were replaced with the first production examples of the General Electric LM-2500 marine gas turbine. The LM-2500, a derivative of GE's CF-6 aerojet engine, has since become ubiquitous in U.S. naval service, with hundreds of examples in all manner of combatant craft and auxiliaries.
After nearly two decades of service with MSTS/MSC, ADM Callaghan was transferred to the Maritime Administration's Ready Reserve Fleet[3] (RRF) in 1985. ADM Callaghan was one of 78 RRF vessels that were activated to support Operations Desert Shield/Desert Storm[4]. The vessels involved were roll-on/roll-off vessels, break-bulk cargo ships, tankers and barge carriers. More than seventy-five percent of the RRF provided sealift to support the U.S. effort's in the Persian Gulf between August 1990 and April 1991. The ships transported 750,000 short tons of dry cargo, which was one-fifth of the total dry cargo sealifted during the conflict. The Ro-Ros proved to be the most effective vessels and they delivered nearly twenty percent of Central Command's material and other support during the first phase of the operations. Having participated in several operations and exercises since Desert Shield, ADM Callaghan remains an active vessel in MARAD's RRF in Alameda, California.
Take the tour (below) of Admiral Callaghan's machinery space, starting from the aft forward. The tour also includes detailed views of the first General Electric LM-2500 aeroderivative gas-turbine engine, which began operating on Admiral Callaghan in 1969.
Gas Turbine Ship.
Roll-on/roll-off, or Ro/Ro, describes how vehicular cargo is loaded and unloaded from a ship.
The Ready Reserve Fleet is now known as the Ready Reserve Force.
ADM Callaghan was among the first group of activations, 17 Ro/Ro ships in August 1990. The ship struck an uncharted obstruction in the Red Sea while returning from its first voyage to the Middle East. With nearly 500 feet of severe bottom damage, Callaghan was under repair well beyond the conclusion of the war.
Flash plug-in (version 9 or later) required for viewing.